James Harden has scored a career-high and franchise record 61 points in tonight's game at Madison Square Garden against the New York Knicks.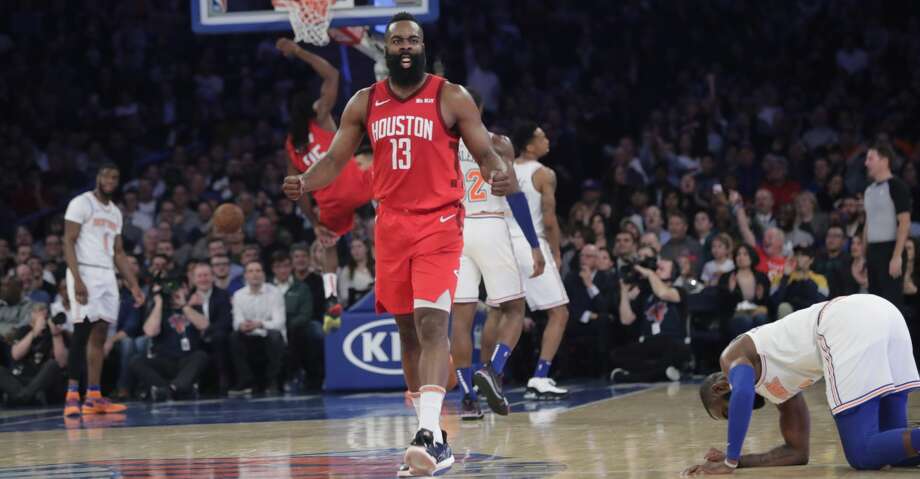 Harden has had his 21st consecutive 30-point game, which is the fourth longest streak in the NBA history. This was also his fifth 50-point game in the season. He finished 17 of 38 from the floor and was only 5/20 for the three-pointers, but was 22 of 25 from the line, as he led the Rockets to a 114:110 victory. The Madison Square Garden record is 62 points, set by Carmelo Anthony.
Joel Embiid had 33 points and 19 rebounds leading the 76rs to a 122:120 vitory over the San Antonio Spurs. With a Sixers crowd chanting "MVP!" each time Embiid touched the ball, the All-Star center delivered a sensational performance. He even scored 16 straight points that kept the Sixers in the game. Ben Simmons notched a tripple-double scoring 21 points, with 15 assists and 10 rebounds.
Donovan Mitchel with his 35 points led Utah Jazz to a 114:108 victory against Nikola Jokic's Nuggets, while the Boston Celtics won easily 123:103 at Cleveland. The Raptors missed their best player Kawhi Leonard in the Indiana trip, and lost 110:106 from the Pacers. Blake Griffin scored 37 points at New Orleans, and the Detroit Pistons won the game 98:94.
In the other games: Brooklyn Nets 114:110 Orlando Magic, Clippers won at Miami 111:99, Chicago Bulls 101:121 Atlanta Hawks and Memphis Grizzlies 107:118 Charlote Hornets.